Fall is here and that can only mean one thing – it's Note season. And Samsung's latest incarnation of its flagship phablet – the Galaxy Note 8 – has been in my possession for the better part of two weeks now. For me, the S-Pen is one of the biggest drawing factors the device has to offer. All pun intended.
Jokes aside, the S-Pen and its note-centric features are sure to be one of the biggest reasons folks decide to buy this phone. Perhaps you don't need a stylus, and in that case, I'd suggest the Galaxy S8+, but for those who need to jot down ideas on the fly – the Note 8 is where it's at. That being said, the S-Pen packs so many features, it's only right that we take a closer look.
Create Notes
Note creation is obviously nothing new to the Galaxy Note series. But, the last device I owned in the lineup was the Galaxy Note 5, so I'm just a bit behind. In case you're new altogether, or you just need a refresher, let's go over the Samsung Notes app.
The S-Pen menu displays on-screen when you remove the S-Pen from its slot. The first two options from the top are 'Create note' and 'View all notes'. It's pretty straightforward – you start a new note and your screen captures what you write on it with the S-Pen.
But there's more to it than just writing notes. The Samsung Note app is so intelligent, it knows what you're writing on the screen and allows you to call numbers, send emails and connect to websites straight from your notes. To use this feature, you simply write a number, email address, or URL in your note, then hover over it with the S-Pen. Additionally, pages expand as you write or draw, so you have no limits on space.
Smart Select
The Smart Select feature lets you select a specific area on your screen and perform different actions on it. You can save a selection as a photo (think screenshots with more control), share it like you would any other file, and even extract text from photos.
You can also pin selections to your screen, keeping them accessible while you browse on to other areas of your phone. This can be particularly handy for situations where you need to keep one set of data visible while managing other tasks.
Screen Write
There's not a whole lot to detail here, but Screen Write sure can be fun – and even useful in certain situations, I suppose. This feature lets you take a screenshot and write or draw on it using the S-Pen. You can change the pen size and color settings, and you can erase any mistakes you make by switching over to the eraser mode.
Live Message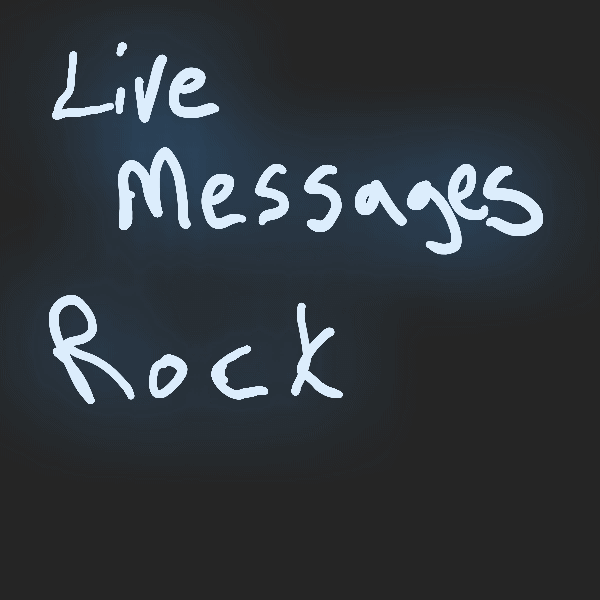 I like Live Messages so much, I added them to my round-up of the best Galaxy Note 8 features article. Again, not a whole lot of ground to cover, but it's a pretty cool feature just the same. A Live Message is a hand-written note or drawing that ends up as an animated GIF file like the one you see above. You can change the color and/or effect of your pen and also change its tip size.
Translate
Another handy feature, Translate lets you hover over any word on your screen and translate it to any one of over 70 languages. You can choose your target language source and the language you want to translate to. An audio symbol appears when hovering over text that lets you hear the translation itself.
Bixby Vision
Bixby – which I'll be covering more in further posts – is Samsung's answer to Google Assistant and Siri. It's Sammy's Smart AI agent built to make device interaction easier. Until I've had some time to actually dig in with Bixby, I'll point you to this quoted text I found on Pocket-lint for more information about the service.
What is Bixby?
A complete solution: it is designed to let you carry out a full range of interactions, rather than launching an app for example or carrying out a single task. Samsung says that Bixby will be able to do just about everything you can do with an app using touch.
Contextually aware: this is one of the buzzwords of AI, demonstrated by Google Assistant, for example. This will mean that Bixby can recognize the state that the app is in and take the right actions based on your requests, also letting you mix voice or touch.
Understands natural language: this means that you don't need to use set phrases, but you can give incomplete information and Bixby can interpret and take action. Natural language recognition has been key to the rise of Alexa, for example, and is now a key element of modern AI.
Once activated, Bixby Vision can search for products online, discover new places nearby, or even translate foreign text simply by taking a photo of a place or object with the camera. I'm a huge Google Assistant fan, however, so I'm not sure how much I'd personally use this feature. That's just a matter of personal opinion.
Shortcuts
In addition to everything I've already gone over, you can assign custom apps to the S-Pen "app wheel". You can use your email app, messaging app, YouTube… You get the point. Go crazy with it!
Wrap-up
I hope you learned a thing or two about the S-Pen here in this post, and that it might help you make a determination as to whether the Galaxy Note 8 is for you or not. As always, huge thanks to our friends at Verizon for giving us the opportunity to review this device.
Stay tuned for more coverage!