We'll file this under, "It's about time". In case you haven't already seen the news, Google Calendar got an absolutely massive update today. On top of a fresh set of paint, the service is also getting a brand-new set of features for power users. Before I tell you how to enable everything, let's have a look at what's new.
See conference room details when booking a room. – G Suite admins should love this one. Now, you can add detailed information about your organization's meeting rooms. Gone are the days of interns frantically running through the halls trying to find where they need to be. Aside location, you can also add details about how large the meeting space is, whether or not it has audio/video equipment, or if the room is wheelchair accessible.
Add rich formatting and hyperlinks to your Calendar invites. – Now, you can add everything you need directly to your Calendar invites. You can link to spreadsheets, documents or presentations which aids in creating detailed agendas and ensuring all materials are in one centralized location before your meetings start. It may sound like a small change, but this is HUGE for productivity, in my opinion.
Manage multiple calendars side by side in "Day" view. – Do you deal with scheduling for teams or employees? Your life is about to get significantly easier, thanks to the ability to manage multiple calendars in a side-by-side display. To do so, just click 'Day' view and select the calendars you need to compare.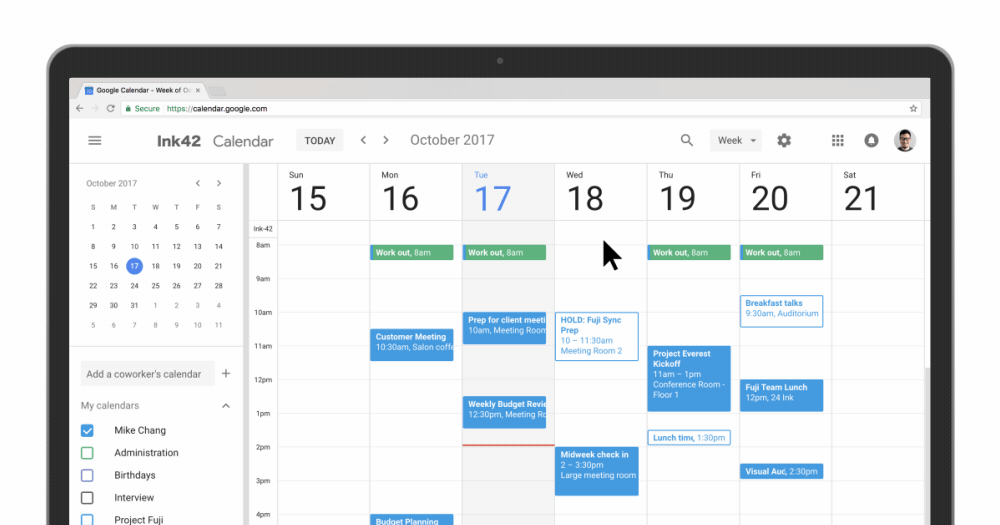 There's also an entire support page set up to detail everything new in Google Calendar. You can head over there for more information, if you'd like, but let's get to what you're really here for. It's okay – I don't blame you. The first thing I said when I heard about this was…
How do I get the new Google Calendar?
On a computer, open Google Calendar.
On the top right of your screen click "Use new Calendar".
To go back to the old Calendar at any time, click Settings
But wait, I don't see "Use new Calendar?!
That's okay. Neither did I.
Luckily, Rob pointed out this link, which lets you opt-in and start using the new Calendar immediately.
Rob lives in Canada and it worked for him, it worked for me here in the US, and Cliff actually had the option available without the need for opting in, also here in the US. It's worth noting that a buddy in Poland didn't have the same luck as me, so it's likely not available everywhere just yet. Stop back and let us know in the comment thread if you managed to get it, or not.
For those that already have it, what do you think about the new Material design, friends? I'm definitely digging the new look, and the extra features are always a bonus.