The Samsung Galaxy Note 8 is the latest phone to hit my review desk (thanks again, Verizon!), and it's a shame I'll only have it for about a month. I thought there was a lot to take in with the Moto Z2 Play review, but the Note 8 is chock full of awesome features. That said, I'll be breaking my review down into several posts and videos.
To bring you up to speed on my progress, check out my Note 8 unboxing video from the other day. I'll admit, I'm no Spielberg, but shooting these videos is definitely fun, and I sure hope you guys are liking them.
Anyhoo, we're here today to discuss the 8 best features the Note 8 has to offer in my buildup to the full review. Without any hesitation, let's get this train rolling, shall we?
1. Dual Camera setup
The Note 8 isn't the first phone to sport dual cameras, but it's the first one from Samsung. Considering Sammy's reputation for superior smartphone cameras, this is certainly a drawing point for mobile photographers. And with this phone, it's time to start considering mobile photography pretty damn close to DSLR-quality.
One camera packs a f/1.7 lens similar to the S8+, and right next to sits a f/2.4 telephoto lens for shooting with 2x optical zoom. Additionally, you can zoom in up to 10x using the camera app's digital zoom. To add icing to the cake, both lenses have optical image stabilization (OIS) to reduce blur from camera shake.
2. Live Messages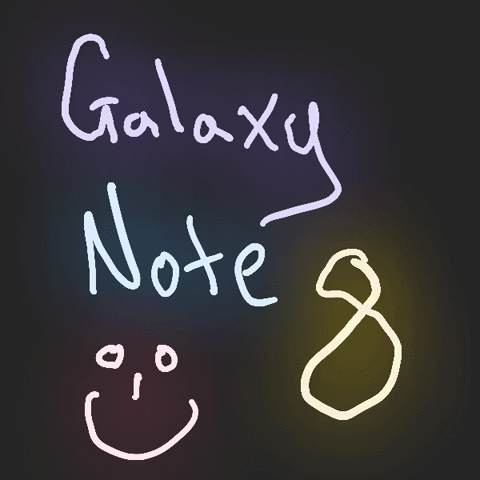 You can call me a nerd all you want, but Live Messages are cool AF. They're essentially a hand-written note or drawing that plays back in GIF form. Once you create a file, you can easily send it to friends and family, post it to your social media accounts, or anywhere else GIF files are accepted.
3. Live Focus
Live focus is all about the Bokeh, baby! If you're unfamiliar, Bokeh is the term used to describe the characteristics of the out of focus area in a photograph. With the Note 8, Samsung lets you bring objects into focus while blurring the background. Think iPhone 7 Plus, but with an upgrade, as Sammy makes it possible to adjust the amount of blur before shooting or after the image is processed.
4. Updated Screen Off Memo
Screen Off Memo first debuted with the Note 5 and has been updated for the Note 8, so you can now use the S Pen to write up to 100 pages of notes right from the lock screen. Furthermore, you can now edit pinned notes, making it easy to manage your to-do lists and more. I love this feature for jotting down notes, especially when I'm in a business meeting and thumbing away on my phone isn't feasible.
5. Moar RAM
The Galaxy Note 8 packs the same Snapdragon 835 processor as the Galaxy S8 and S8+, but it comes with 6GB of RAM, as to where the S8/S8+ come with just 4GB. It doesn't take a genius to know that extra RAM is going to relate to a smoother, more fluid experience. And the Note 8 doesn't disappoint in that area, from our hands-on time so far.
On a side note, my personal desktop has only 8GB of RAM. (I know, I know, I should double that.) But we're seriously reaching a new era of mobile computing with devices toting 6GB of RAM these days. It's pretty mind-blowing.
6. App Pair
The multi-window feature that's been a longtime regular for Samsung devices has a new polished experience called App Pair. It essentially allows you to create shortcuts for apps you use together frequently to launch them directly into a multi-window display from your Edge Display. This is perfect for folks who like to watch YouTube and browse the web at the same time, or any other combination of apps you can think of.
7. Gigantic screen real estate
The star of the show with the Note 8 is, without doubt, its gorgeous display. Samsung is touting it as "Infinite Display", due to its near bezel-less, full-frontal glass, edge-to-edge screen. For the record, the Note 8 packs a 6.3-inch screen with symmetric curves and 18.5:9 aspect. It's also worth noting that the display's default resolution is Full HD+ and can be changed to Quad HD+ (WQHD+) in Settings.
8. The headphone jack lives on!
Lots of phone manufacturers are ditching the headphone jack, as of late. As an audiophile, I'm glad to see that Samsung didn't stick with the trends, for once. Sure, I have Bluetooth headphones for days, but call me old-fashioned. Nothing beats the sound of a hardwired connection. Yet, anyway.